Product information "BERNSTEIN Shower Toilet PRO+ 1104 - with integrated bidet function - glossy black - rimless - japanese WC"
BERNSTEIN Shower Toilet PRO+ 1104 - glossy black - complete set - squared design
BERNSTEIN rimless shower toilet features a vaste range of intelligent functions and the perfect technology: everything you need to experience a fresh, clean feeling every day and discover a newly found well-being. 
The extandable shower arm is made of high-quality stainless steel and ensures an effective cleaning experience. The self-cleaning antibacterial nozzle has a pulsating and oscillating massaging jet for a pleasant after-toilet-wash. Ideal water temperature and the jet intensity can be adjusted to your preference. The washing nozzle is automatically rinsed with fresh water before and after each use and in order to be always hygienic and clean, it remains inside the bowl during the use of the toilet.
Top-of-the-line technology for the perfect hygiene
For superior comfort, after a refreshing water rinsing, air drying at desired temperature is available to eliminate unpleasant humidity. And forget about unpleasant smells: an intelligent odor absorbtion system, featuring a built-in fan, will automatically divert odors into a filter.
The 180° Vortex rinsing system provides precise and deep cleaning. The water flow comes from both sides of the rimless toilet bowl ensuring that the interior of the bowl is completely flushed. Dirt or debris will be effectively washed down the pan instead of remaining stuck under the rim.
The softclose system ensures your toilet seat closes smoothly and quietly. For perfect hygiene, the toilet is coated with an innovative antibacterial additive that leaves no chance for germs.The sterilizing properties of the WC ceramics and WC seat will allow a reduced use of chemical cleaning agents and offer the best protection for the entire life circle of your toilet.
BERNSTEIN Intelligent Shower Toilet PRO+ 1104 comes with a remote control unit, ensuring a practical and totally hands-free control of the toilet´s settings and functions.
Another highlight of this stunning product is an integrated night-light sensor that will light up in the dark, guiding you safely to your toilet.
We hihly recommend you to hire a professional to install your shower toilet. For further information, please refer to the assembly and operating instruction below.
As always, BERNSTEIN is a guarantee of quality.
Features and specifications
Material
toilet bowl: sanitary ceramics
toilet seat: thermosetting plastic (Duroplast) - antibacterial
 
Color
glossy black
 
Dimensions
384 x 593 x 380 mm (W x D x H)
 
Weight
about 32 kg net
 
Packing dimensions    
465 x 660 x 480 mm
 
Connection
electrical connection required
 
Electric tension
240 V, 50/60 Hz
 
Lighting | Efficiency class
LED light- non interchangeable | G
 
Protection rating
IPX4
 
 
shower toilet complete system
 
 
10-year spare parts availability guarantee (from date of purchase)
 
 
rimless bowl with hollow bottom
 
 
wall-hung toilet
 
 
antibacterial toilet seat with soft-close function
 
 
 
seat load capacity: max.150kg
 
 
180° Vortex flushing system
 
 
shower noozle made of stainless steel SUS304
 
 
self-cleaning and antibacterial shower noozle
 
 
shower nozzle can be removed and cleaned manually
 
 
posterior and feminine washing options
 
 
warm air dryer
 
 
activated odor absorbing carbon filter
 
 
night-light function
 
 
remote control (batteries not included);
two batteries are required (1.5 V, LR03 / AAA)
 
Technical drawings
(Click image for larger view)
Downloads

 Installation instructions - I / 2018

 Instructions for use - III/2021
Video: Discover more features on the BERNSTEIN SHOWER TOILETS PRO+
Information according to the German Batteries Act and in regards to EU guidelines
We are bound to inform you about the Batteries Act (BattG) as follows:
Disposal of batteries into household garbage is not allowed; you are bound by law to return used batteries. Used batteries can contain harmful substances which can damage the environment or your health when not disposed of correctly. Batteries also contain important commodities such as iron, zinc, manganese or nickel which will be recycled. You may send the used batteries back to us, or you can return them to your local recycling center free of charge (recommended). The symbol of the crossed waste container is a warning against disposing of hazardous materials into household garbage.
at a collection point
batteries shops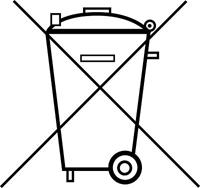 Electrical and electronic equipment
Electrical and electronic products should not be thrown away with household waste.
Consumers can return their WEEE to one of the municipal collection points free of charge.
Items included in the delivery
BERNSTEIN Shower Toilets PRO+ 1104
Remote control with holder (without batteries)
Active carbon odor absorber filter
Assembly material
Assembly instruction
WITHOUT wall mounted WC support frame and sanitary module
Delivery
Pallet shipments are delivered curbside. Please consider that the carrier will call you to fix delivery date/time, so kindly remember to indicate your phone number (landline or mobile phone) when placing your order.
For deliveries to islands, additional charges will apply for sea transport. In order to calculate this charge with precision, your postal code (ZIP Code) will be required.
Colour:

Black

Flushing rim:

rimless

Material:

Sanitary acrylic

Toilet Seats:

with Toilet Seats

, with softclose function

Type of installation WC:

Wall-hung WC

WC model:

Shower Toilets
Question : Leuchtet das Nachtlicht die ganze Zeit durch oder nur wenn man den Raum betritt?
From : customer
Answer:
Guten Tag, vielen Dank für Ihre Anfrage. Grundsätzlich haben Sie hierbei mehrere Funktionen: Kein Nachtlicht: Das Licht bleibt unabhängig von der Umgebungshelligkeit immer aus, wenn eine Kontrolllampe leuchtet. Dauerlicht: Das Licht leuchtet unabhängig von der Umgebungshelligkeit permanent, wenn zwei Kontrolllampen leuchten. Licht bei Dunkelheit (Smart-Modus): Das Licht schaltet sich bei geringer Umgebungshelligkeit automatisch an und bei hoher Umgebungshelligkeit wieder automatisch aus, wenn drei Kontrolllampen leuchten.Mit freundlichen GrüßenBERNSTEIN-BADSHOP
BERNSTEIN Shower Toilet PRO+ 1104 - with integrated bidet function - glossy black - rimless - japanese WC
The article is soon available, pre-order now!
Accessories for the products