Product information "BERNSTEIN DUSCH-WC PRO+ 1102 Shower Toilet with integrated bidet function - white - rimless - japanese WC"
BERNSTEIN DUSCH-WC PRO+ 1102 Shower Toilet white - Intelligent shower toilet - complete system
The BERNSTEIN DUSCH-WC PRO+ 1102 Shower Toilet offers you a complete installation with a large number of intelligent functions and, thanks to perfect technology, facilitates intimate hygiene. Experience after each use a feeling of fresh and pleasant freshness.This process is also more efficient and healthier than cleaning with toilet paper.
The expandable shower arm made of high quality stainless steel allows you to have hot water immediately and creates a soothing and soft effect. Theself-cleaning antibacterial nozzle has a pulsating and oscillating massaging jet for a pleasant wash. The water temperature and the jet intensity are adjustable. The shower arm is automatically cleaned with fresh water before and after each use. In order not to dirty it, the arm of the hand shower remains behind in the toilet bowl during the use of the toilet.
Optimum hygiene thanks to perfect technology
For your convenience, after the refreshing water rinsing, hot air dryer is at your disposal to eliminate unpleasant humidity. Its temperature is also adjustable. And do not worry about bad smells anymore As soon as you sit down on the toilet seat, the built-in fan automatically trips and diverts odors into the odor filter.
The 180 ° Vortex rinse system provides deep cleaning. Water for rinsing comes from both sides of the toilet bowl without flange and thus reaches all areas. Dirt and limestone are unlikely to become embedded.
The softclose toilet seat closes smoothly and quietly. For perfect hygiene, it is coated with an antimicrobial additive that leaves no chance for germs. Even after many cleaning with detergents, it does not lose its effectiveness.
Comfortable functions
To further increase the comfort of the BERNSTEIN DUSCH-WC PRO+ 1102 Shower Toilet, you have a remote control with which you can make all the settings. You can register your user profile according to your personal preferences. It is possible to create two user profiles.
Another highlight of the lavatory is the night light. Soft lighting illuminates the contour of the toilet seat and guides you safely to the toilet.
(Click image for larger view)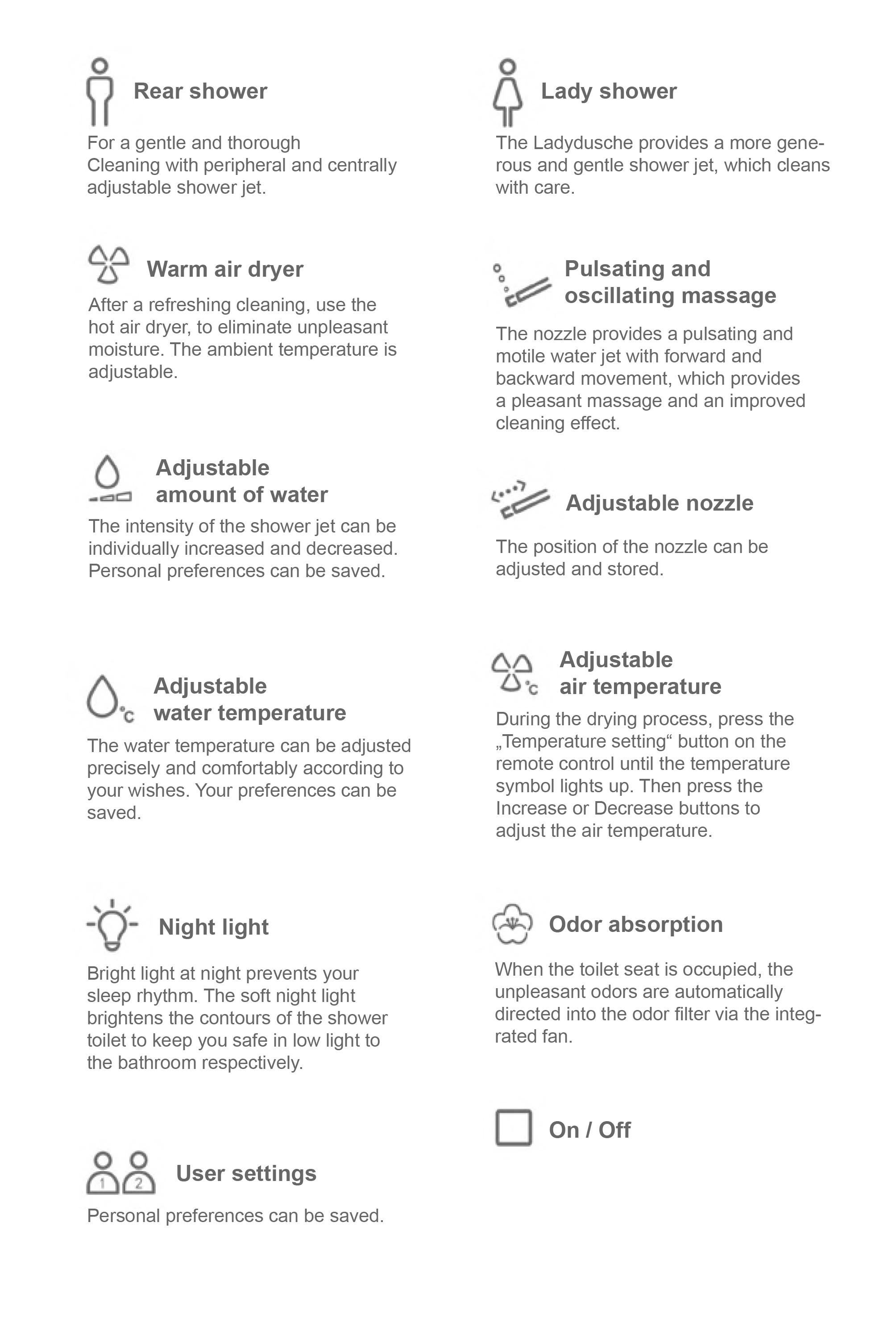 Product comparison BERNSTEIN DUSCH-WC PRO+ 1102 and shower toilet basic
Here is an overview to help you decide between the BERNSTEIN DUSCH-WC PRO+ 1102 and the Dusch-WC Basic.
(Click image for larger view)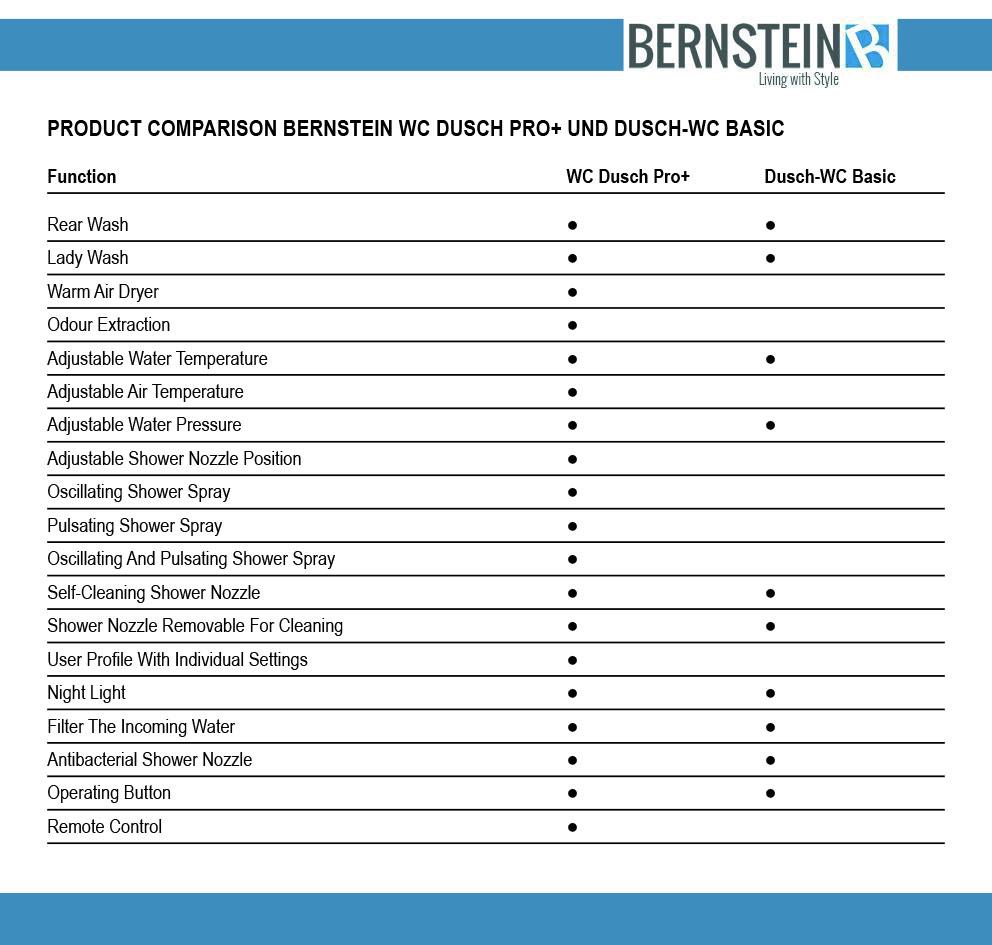 The health aspect
Another very important aspect in favor of the use of a shower toilet with shower function is not only the wellness theme but also the health theme. In case of disturbances in the intimate area, a washing toilet is the ideal solution. No skin irritation with toilet paper, but a thorough and gentle wash with warm water. In addition, if you are limited in your freedom of movement, a Japanese toilet will give you more independence and security.
As you can see, a toilet is worth its price. It meets the tastes of everyone, regardless of age. Have several times a day the pleasant sensation of a cool shower. The purchase of a Japanese toilet represents an investment for several years.
We recommend that you let run the installation of toilet washing by a specialist. For further information regarding installation and operation and other technical details, please refer to the download instructions below.
Features and specifications
Material
toilet bowl: sanitary ware
toilet seat: thermosetting plastic (Duroplast) - antimicrobial
 
Color
white
 
Dimensions
384 x 593 x 380 mm (W x D x H)
 
Weight
about 32 kg net
 
Packing dimensions
465 x 660 x 480 mm
 
Connection
electrical connection required
 
Electric tension
240 V, 50/60 Hz
 
Illuminant | Efficiency class
lampe LED - non interchangeable | G
 
Protection sign
IPX4
 
 
shower toilet complete system
 
 
10-year spare parts availability guarantee
 
 
bowl with hollow bottom without flange
 
 
wall-hung toilet
 
 
antimicrobial toilet seat with soft-close function
 
 
 
seat load capacity max.150kg
 
 
180° - Vortex flushing system
 
 
shower arm made of stainless steel SUS304
 
 
self-cleaning and antibacterial shower arm
 
 
shower nozzle removable for manual cleaning
 
 
rear shower and lady shower
 
 
warm air dryer
 
 
activated carbon filter odor absorber
 
 
night light function
 
 
remote control (batteries not included);
two batteries are required (1.5 V, LR03 / AAA)
 
Technical drawings
(Click image for larger view)
Downloads

Installation Manuel - I/2018

Operators Manual - III/2021
EU Regulation 874/2012 energy efficiency label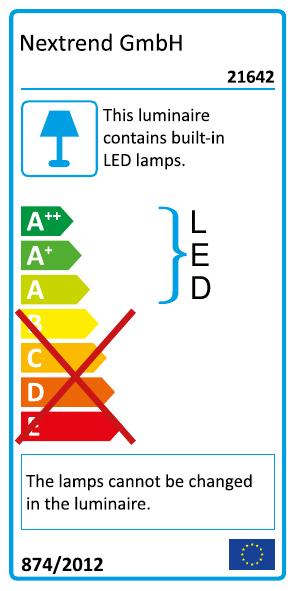 Video: Discover more features on the BERNSTEIN DUSCH-WC PRO+ 1102 Shower Toilet
Information according to the German Batteries Act and in regards to EU guidelines
We are obligated to inform you according to the Batteries Act (BattG) as follows:
Disposing of batteries into household garbage is not permitted; you are bound by law to return used batteries. Used batteries can contain harmful substances which can damage the environment or your health when not disposed of correctly. Batteries also contain important commodities such as iron, zinc, manganese or nickel which will be recycled. You may send the used batteries back to us, or you can return them to your local recycling center free of charge (recommended). The symbol of the crossed waste container is a warning against disposing of hazardous materials into household garbage.
at a collection point
points of sale that market batteries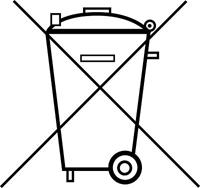 Electrical and electronic equipment
Electrical and electronic products should not be thrown away with household waste.
Consumers can return their WEEE to one of the municipal collection points free of charge.
Items included in the delivery
BERNSTEIN DUSCH-WC PRO+ 1102 Shower Toilet
Remote control with stand (without batteries)
Activated carbon filter odor absorber
Mounting material
Installation instructions
Manual
Without in-Wall system for wall-wc
Delivery
Pallet shipments are delivered curbside. Please consider that the carrier will call you to fix delivery date/time, so kindly remember to indicate your phone number (landline or mobile phone) when placing your order.
For deliveries to islands, additional charges will apply for sea transport. In order to calculate this charge with precision, your postal code (ZIP Code) will be required.
Colour:

White

Flushing rim:

rimless

Material:

Sanitary acrylic

Toilet Seats:

with LED nightlight

, with softclose function

Type of installation WC:

Wall-hung WC

WC model:

Shower Toilets
Question : Sehr geehrte Damen und Herren, ist es möglich, bei diesem WC den Ton auszustellen? Das ist einfach viel zu laut, wenn man das WC im angrenzen Badezimmer hat.
From : customer
Answer:
Guten Tag, vielen Dank für Ihre Anfrage.EINSTELLUNG SIGNALTONÖffnen Sie den WC-Deckel mitsamt Sitz im 90 Grad Winkel, drücken und drehen Sie den Knopfgegen den Uhrzeigersinn, um die Tonfunktion zu deaktivieren.Mit freundlichen GrüßenBERNSTEIN-BADSHOP
BERNSTEIN DUSCH-WC PRO+ 1102 Shower Toilet with integrated bidet function - white - rimless - japanese WC
Ready for shipment within 24h.
Accessories for the products