WC seat Soft-Close U1002 with LED lighting
Ready for shipment within 24h.
Product information "WC seat Soft-Close U1002 with LED lighting"
Toilet seat Soft-Close WC seat replacement cover U1002 with night light
This BERNSTEIN WC seat not only offers a high level of seating comfort, but also LED lighting in blue, which is a real highlight in your bathroom. The toilet seat provides original variety in your bathroom design and enhances it at the same time.
From now on, you won't have to switch on the bathroom light at night and won't be wide awake again as a result. In dim ambient light and darkness, an acoustic sensor reacts to sounds above 60 dB, such as speech or hand clapping. The LED lamp comes on and the light duration is 30 seconds before the lamp automatically goes off. To switch it on again, you again make a sound.
LED lamps also offer several advantages. They have a long life and are very economical in consumption. The batteries last a correspondingly long time. LED lamps do not emit heat, so there is no fire hazard for the toilet seat. They are also waterproof and cannot be replaced. The batteries (not included in the scope of delivery) are protected and safely stored in a special battery compartment.
Furthermore, this BERNSTEIN toilet seat offers even more qualities:
High-quality, robust and unbreakable Duroplast instead of thin plastic!
Take-off mechanism - Quickly removable at the touch of a button for easy cleaning.
With lowering mechanism - By lightly tapping, the lid lowers automatically, gently and silently.
Product details
WC seat colour
White
Dimensions
464 x 359 x 50 mm (D x W x H)
Material
High-quality Duroplast;
WC seat fastening made of stainless steel
Colour LED lighting
Blue
Energy efficiency class
F
Protection class
IP55
 
With acoustic and light sensor
 
Shatterproof and scratch-resistant
 
Soft-close function
 
With take-off mechanism
 
Mounting distance 180 mm
 
Without batteries
Download

Assembly instructions WC seat U1002 with LED lighting
Obligation to inform according to battery law (BattG)
Please ensure that you dispose of your old batteries/rechargeable batteries at a municipal collection point or at your local retailer, as required by law. Disposing of them in the normal household waste is prohibited and violates the Battery Act.
You can return batteries and accumulators free of charge here:
at a public collection point
where batteries and accumulators are sold
This regulation also applies if batteries and accumulators are not sold separately but are already built into appliances (e.g. notebooks or mobile phones).
Batteries and accumulators containing harmful substances are clearly marked with the symbol of a crossed-out dustbin. Furthermore, below the symbol of the crossed-out dustbin is the chemical name of the corresponding pollutants. Examples are: (Pb) lead, (Cd) cadmium, (Hg) mercury. Cd: contains more than 0.002 per cent cadmium. Hg: contains more than 0.0005 per cent mercury. Pb: contains more than 0.004 per cent lead.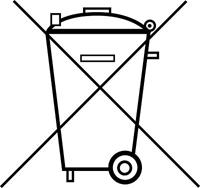 Electrical and electronic equipment
Electrical and electronic equipment must not be disposed of with household waste.
Consumers can hand in their old electrical appliances free of charge at one of the municipal collection points.
WC seat with LED lighting
Assembly instructions
Delivery
This product is dispatched by DHL package and takes up to 6-8 working days to reach you. The carrier will try to deliver your package at home. In case you were not in when this happens, a delivery note will be left in your mail box, you can then collect the item at your local post office.

For deliveries to islands, additional charges will apply for sea transport . In order to calculate this charge with precision, your postal code (ZIP Code) will be required.
Colour:

White

Toilet Seats:

with LED nightlight

, with softclose function
There aren't any asked questions yet.
Accessories for the products