Shower tray of SMC - 3,2 cm high - selectable dimensions and accessories
Product information "Shower tray of SMC - 3,2 cm high - selectable dimensions and accessories"
Shower tray BERNSTEIN GT series - Structured surface
Our SMC shower tray (Sheet-Molding-Compound) will seduce you with its modernity and elegance, its incredible stability and its non-slip and scratch-resistant surface.
The shower tray has a very low profile of only 3,7 cm, which allows an installation on one level.
You can choose among 5 different dimensions. In addition the shower tray can be cut with a diamond disc to meet perfectly your exigences.
What does SMC stand for?
SMC stands for Sheet Moulding Compound (it consists of thermosetting polyester resin), ideally suited for the manufacture of the shower trays. SMC uses fibre-reinforced polymers which are compacted. Heat and pressure act on the charge to shape it. The quality of SMC is very high and consistent thanks to the use of impregnated fibres. It makes the shower trays even lighter and more robust.
Features and details
Dimensioni
Selectable
90 x90 x 3,2cm   (net weight: 11 kg)
90 x120 x 3,2cm (net weight: 15,4 kg)
90 x140 x 3,2cm (net weight: 17 kg)
90 x160 x 3,2cm (net weight: 19,4 kg)
90 x180 x 3,2cm (net weight: 21 kg)
Matériau
SMC
Couleur
White
Surface
Structured
 
Can be cut in the required dimension
 
Non-slip and anti-scratch surface
 
Long-lasting
 
Absolutely robust through its structure and texture on the underside
 
Diameter of plug hole Ø 90mm
 
DIN connector
 
Certified EN 14527, EN 274-1/-2, DIN 51097
 
Easy to clean
 
Easy to install
Technical drawing
(click on the image for larger view)
Included in the delivery
Shower tray of the required dimension
Optional:
Cautions:
The inferior structure of the product doesn´t allow an installation on MEPA mounts feet or on a support frame.
Optional items
Plug and waste fitting Type B
| | |
| --- | --- |
| Material | Plastic with chromed cover top |
| Height | 80 mm |
| Dimensions plug hole | 90 mm |
|   | Horizontal outflow DN 40/50 mm |
|   | Suitable for showers with 90 mm drain hole  |
|   | Removable cover |
|   | Drain band da 45° |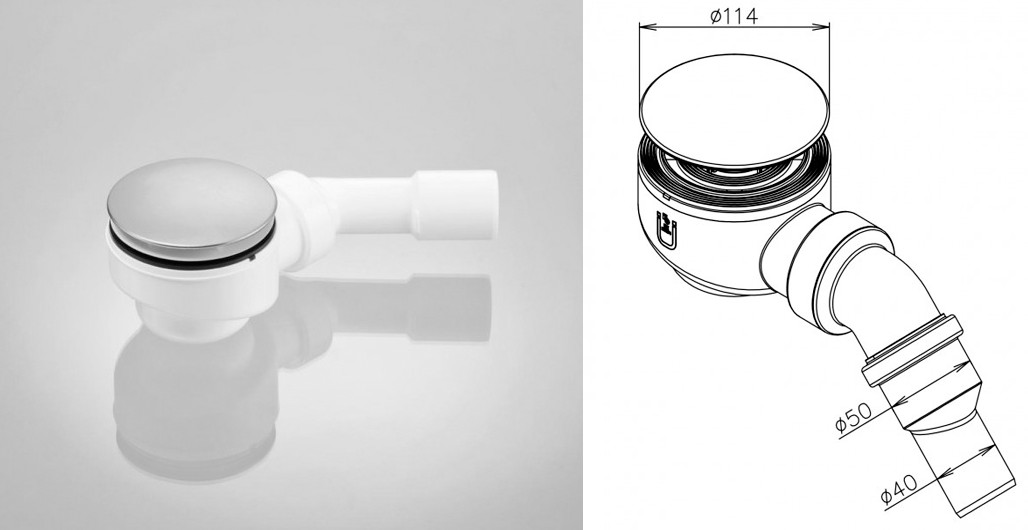 Shower waste Dallmer Orio
| | |
| --- | --- |
| Material | Polipropilene, grande resistenza |
| Flow rate | Ca. 85 mm |
| Version | Lateral outlet DN 50 |
|   | Ball joint adjustable from  0 - 15 degrees |
|   | Removable odour trap |
|   | Protective cover |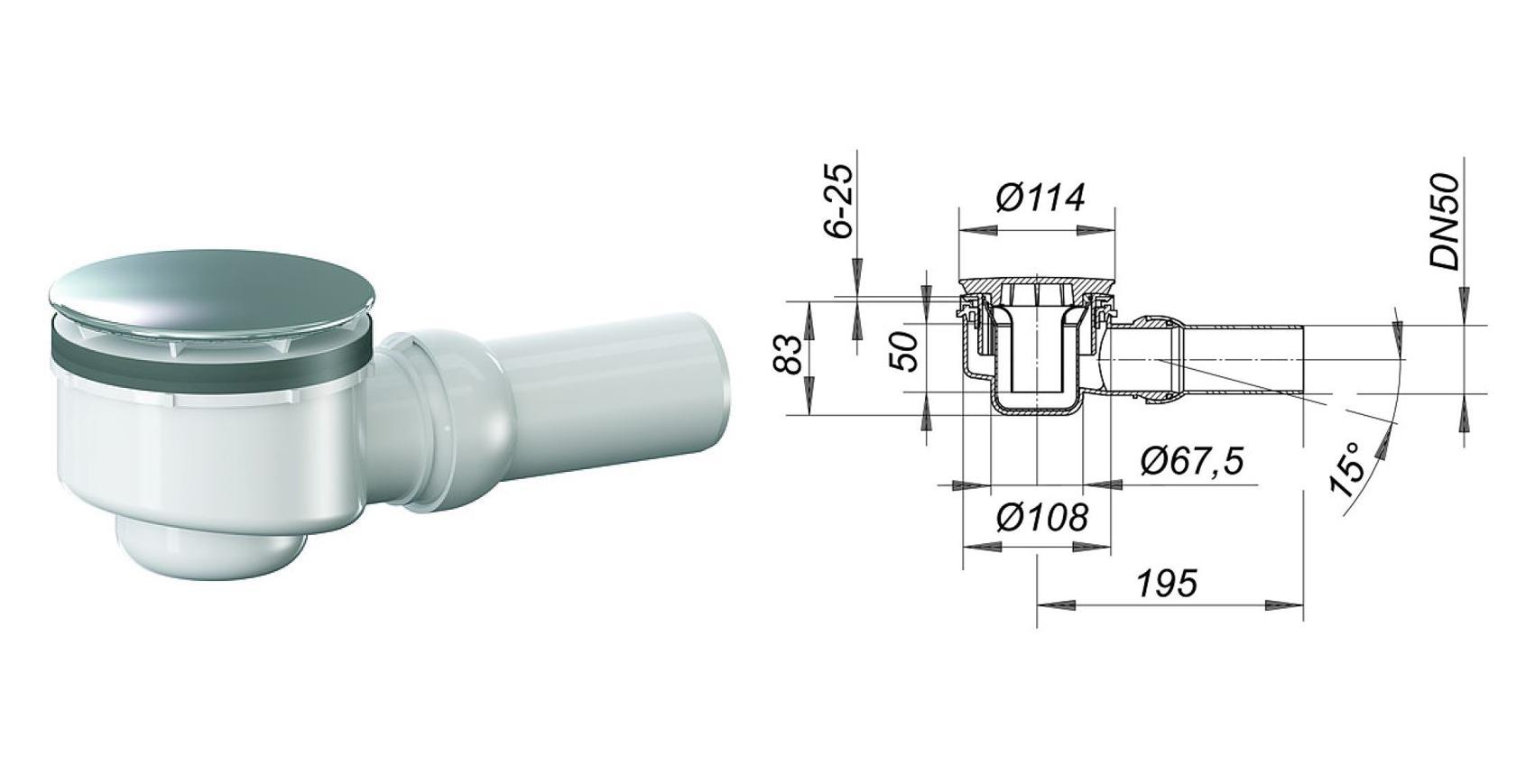 Flow rate according to DIN EN 274
(drainage capacity accumulation height 15mm)
|   |   | Norm |   | Flow |
| --- | --- | --- | --- | --- |
| DN 50 |   | 0,4 l/s |   | 0,59 l/s |
Delivery
Pallet shipments are delivered curbside. Please consider that the carrier will call you to fix delivery date/time, so kindly remember to indicate your phone number (landline or mobile phone) when placing your order.
For deliveries to islands, additional charges will apply for sea transport. In order to calculate this charge with precision, your postal code (ZIP Code) will be required.
Colour:

White

Dimensions shower tray:

90x90cm

, 120x90cm

, 140x90cm

, 160x90cm

, 180x90cm

Material:

SMC

Pop-up waste:

without pop-up waste

Shape shower tray:

Quarter circle

, Rectangular

Surface shower tray:

Structure

, anti-slip

outlet cover:

with outlet cover
Question : kann man die duschwanne direkt auf fliesen montieren ohne füsse
From : customer
Answer:
Guten Tag, vielen Dank für Ihre Anfrage. Unsere SMC Duschtassen kann nicht mit einem herkömmlichen Untergestell unterbaut werden und wird direkt auf den Estrich oder den Fliesen mit Hilfe von Montage- oder Fliesenkleber montiert. Sofern die Duschtasse unterbaut werden muss, können Sie dies mit Styrodur oder Ytongsteinen kombinieren.Mit freundlichen GrüßenBERNSTEIN-BADSHOP
Question : Guten Tag, die mitzubestellende Ablaufgarnitur hat einen runden Deckel, die Duschtasse aber auf den Abbildungen einen eckigen. Welcher Anschluss ist der nachher sichtbare?
From : customer
Answer:
Guten Tag, vielen Dank für Ihre Anfrage. Die runde Ablaufgarnitur wird bei vollendeter Montage von der rechteckigen Blende überdeckt. Unter dieser eckigen Blende ist die runde Ablaufgarnitur sichtbar.Mit freundlichen GrüßenBERNSTEIN.BADSHOP
Question : Sie schreiben: Diese Duschtasse können Sie aufgrund der Struktur der Unterseite nicht mit einem Mepa Fußgestell bzw. Montagerahmen verwenden. Welchen Montagerahmen müsste ich nehmen? Haben sie einen passenden? Kann die Duschtasse auch in der Länge beschnitten werden? z.B. auf 110cm
From : customer
Answer:
Guten Tag, vielen Dank für Ihre Anfrage.Auf Grund Ihrer Beschaffenheit können diese SMC-Duschtassen nicht mit einem herkömmlichen Untergestell unterbaut werden. Sie können diesen Artikel direkt auf den fertigen Estrich setzen und mit Montage- oder Fliesenkleber befestigen. Sofern Sie dennoch die Duschtasse unterbauen müssen, können Sie hierfür Styrodur oder Ytongsteine verwenden. Eine Kürzung ist bis zu einem gewissen Grad auch möglich.Mit freundlichen GrüßenBERNSTEIN-BADSHOP