Product information "Shower toilet BERNSTEIN Basic 1104 - toilet integrated bidet function - Glossy Black - rimless - japanese WC"
Shower Toilet BERNSTEIN Basic 1104 - Flange free WC-Bidet-Combination incl. Wash-WC-Softclose Seat and Cover
Shower Toilet BERNSTEIN Basic - Engineered for perfect hygiene and now available with an unbeatable price!
Comfortable functions
Rimless shower toilet with comfortable and intelligent functions
Oscillating wash
Adjustable flow rate, 5 steps
Adjustable water temperature, 5 steps
Easy usage with a setting knob
Nightlight
10 year guarantee on replacement parts (after purchase date)
Hygiene functions
Antimicrobial WC-Seat with Soft-Close-Function
No flange flush Wash-WC - hygiene und germ free
180°-Vortex-Flush system powerful cleaning action
self-cleaning and antibacterial shower arm
shower nozzle removable for manual cleaning
The Functions of the BERNSTEIN Dusch-WC Basic
(Click image for larger view)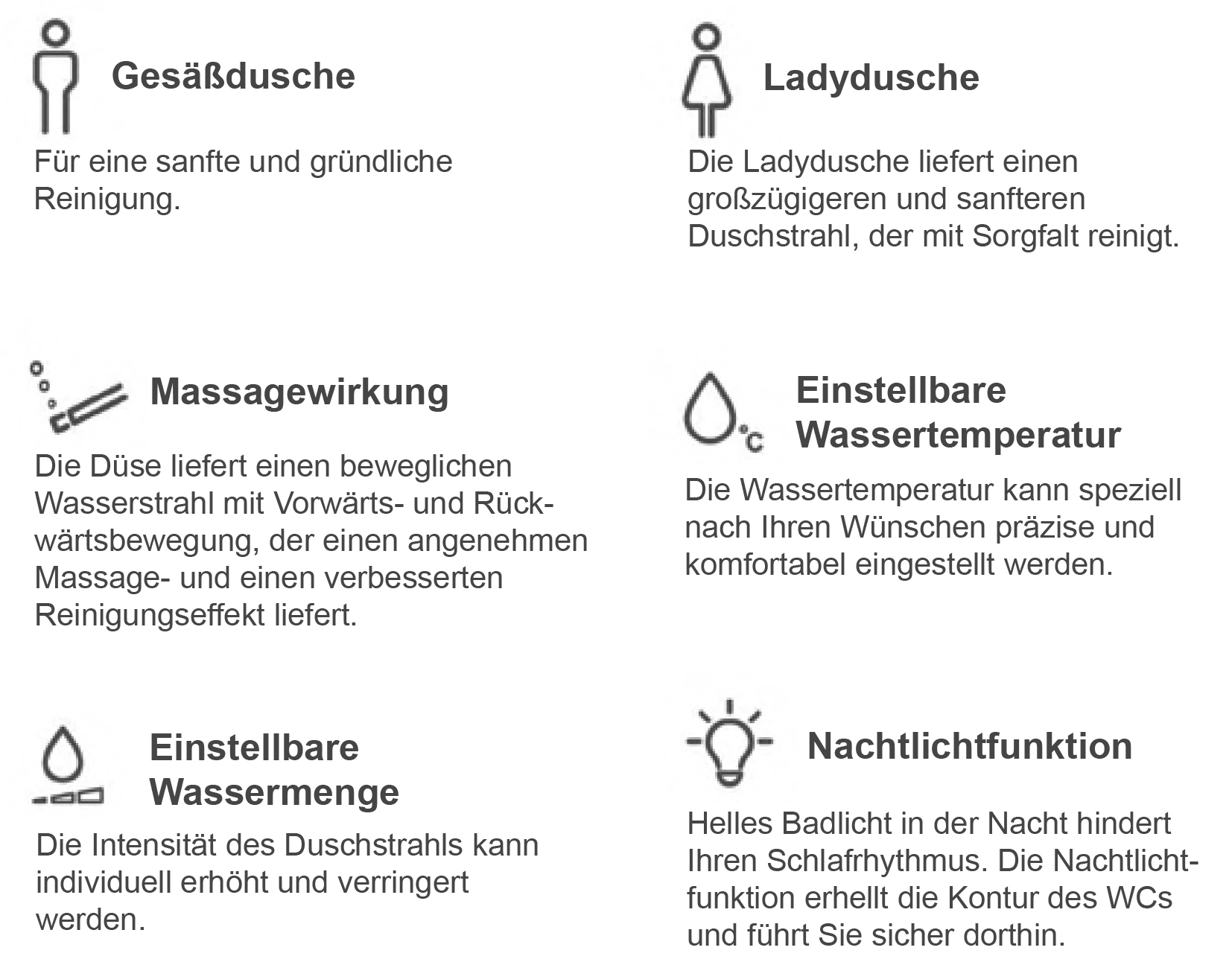 Product comparison of BERNSTEIN WC Dusch Pro+ und Dusch-WC Basic
An overview to help you decide between WC Dusch Pro +, which contains further extras, and the Dusch-WC Basic.
(Click image for larger view)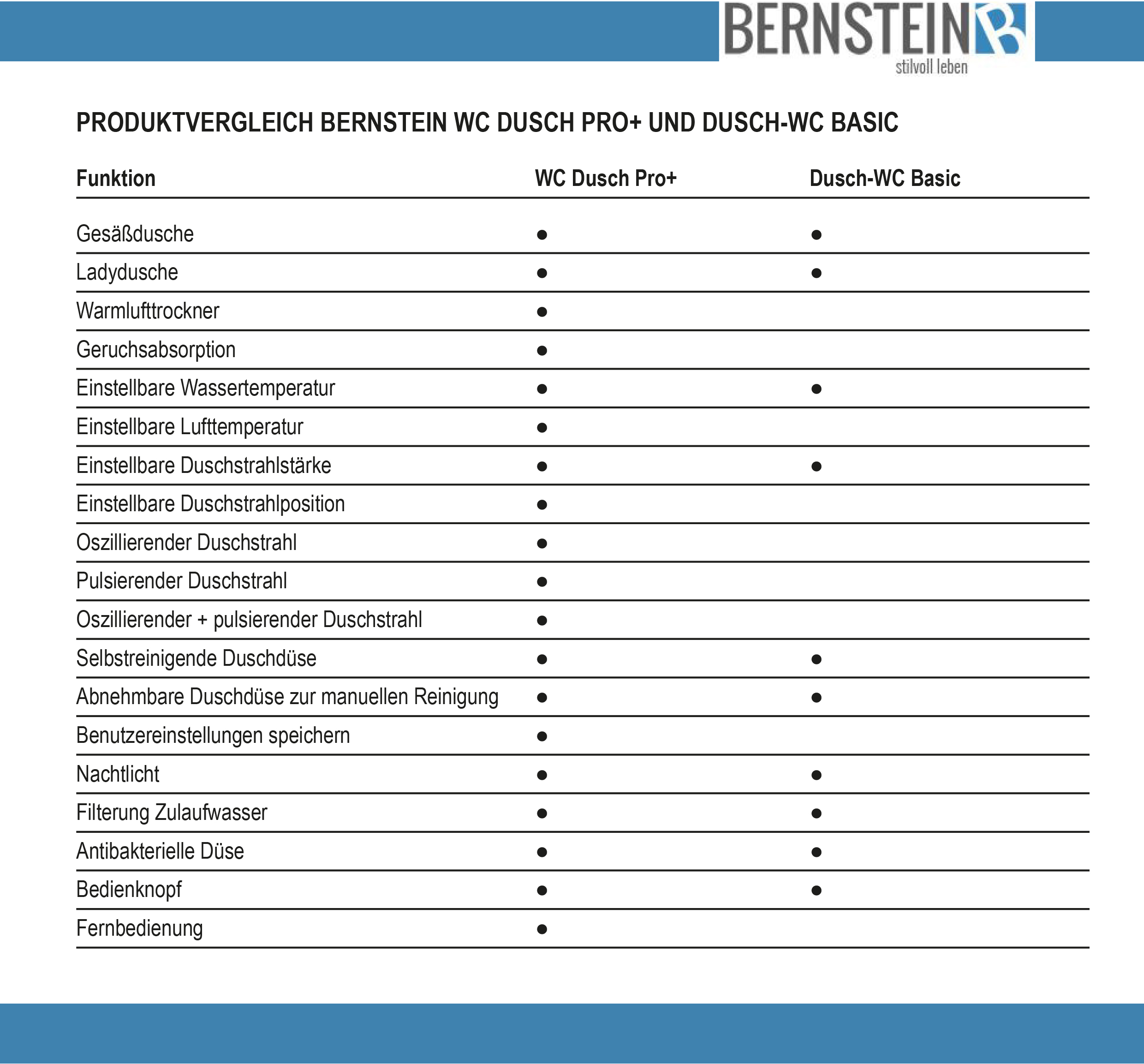 BERNSTEIN Shower WC Basic in Glossy Black – Perfect Hygiene for your personal comfort
The modern Wash-WC complete with convenient  Basic-functions for a comfortable wash!
The flange-free BERNSTEIN Wash-WC complete Basic has the more important functions, that one would need after use of the toilette. The Rear-Wash and Lady-Wash, one has a warm water experience. Because of the oscillating jet, one also has a massage effect adding to the cleaning experience.
Water pressure and water temperature settings can be regulated via the settings knob on the right side of the Wash-WC for the 5 settings. The water jet has a germ-free self-cleaning, before every usage. While using the toilette, the water jet is in its' sheath.
Optimal Hygiene and perfect technology
The 180°-Vortex-flush system allows for a powerful cleaning oft he toilet bowl, flusching from the right and from the left, eliminating germs and bacteria efficiently.
Both the Wash-WC + and Basic are equipped with a Soft-Close-Seat. Seaqt and cover close softly and quietly. The seat also has a antimikrobiell coating, which gives germs no chance! The Wash-WC + is therefor perect for Hotels, Senior Liviing und guest-WCs. It is easy to use and also comes with a remote control.
The Nightlight is also an innovation that no other Wash-WC has.
Health aspects
The Wash-WC enhances the ease of cleaning in private areas and as a result increased health with a gentle cleaning with warm water. Should a handicap hinder a thourough cleaning, with the Wash-WC + the washing and drying is no hindrance any more, even for elderly and handicapped.
You have a 10 year guarantee on replacement parts, from the purchase date!
We would like to recommend that the installation should be done by a professional. For further information regarding installation and usage as well as technical information, you can download the PDF's on our website.
As always, BERNSTEIN is guarantee of quality.
Features and specifications
Material
toilet bowl: sanitary ware
toilet seat: thermosetting plastic (Duroplast) - antimicrobial
Color
glossy black
Dimensions
384 x 593 x 380 mm (W x D x H)
Weight
about 32 kg net
Packing dimensions  
465 x 660 x 480 mm
Connection
electrical connection required
Electric tension
240 V, 50/60 Hz
Illuminant
lampe LED - non interchangeable
Efficiency class
G
Protection sign
IPX4
 
shower toilet complete system
 
10-year spare parts availability guarantee
 
bowl with hollow bottom without flange
 
adjustable water temperature, 5 steps
 
adjustable flow rate, 5 steps
 
night lighting function adjustable on 3 levels:
permanently on or off, in Smart mode (device for automatically turning on the light in the dark)
 
rear shower and lady shower
 
wall-hung toilet
 
antimicrobial toilet seat with soft-close function
 
seat load capacity max.150kg
 
180° - Vortex flushing system
 
shower arm made of stainless steel SUS304
 
self-cleaning and antibacterial shower arm
 
shower nozzle removable for manual cleaning
Technical drawings
(Click image for larger view)
Downloads

User Manual BERNSTEIN Basic 1104

Assembly Instructions BERNSTEIN Basic 1104
Video: Learn more about the shower toilet BERNSTEIN Dusch-WC Basic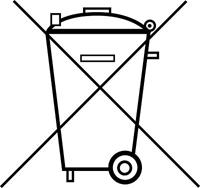 Electronic equipment
Electronic equipment should not be discarded in household garbage.
Old or unusable electronic equipment can and should be discarded at your local community refuse department.
Included in the delivery
BERNSTEIN Basic 1104
Installation material
Assembly Instructions
User Manuel
Delivery
Pallet shipments are delivered curbside. Please consider that the carrier will call you to fix delivery date/time, so kindly remember to indicate your phone number (landline or mobile phone) when placing your order.
For deliveries to islands, additional charges will apply for sea transport. In order to calculate this charge with precision, your postal code (ZIP Code) will be required.
Colour:

Black

Flushing rim:

rimless

Material:

Sanitary acrylic

Toilet Seats:

with Toilet Seats

, with softclose function

Type of installation WC:

Wall-hung WC

WC model:

Shower Toilets
Question: Hallo, passt dieses Dusch WC an ein herkömmliches Geberitvorbauelement? Was muss bauseits vorhanden sein? Ein zusätzlicher Kalt- und Warmwasseranschluss und Strom?
From: customer
Answer:
Guten Tag, vielen Dank für Ihre Anfrage.Dieser Artikel ist mit jedem Geberit Vorwandelement kompatibel und es wird lediglich zusätzlich ein Geberit Wasseranschlussset benötigt.Für das Dusch-WC wird lediglich ein Kaltwasseranschluss sowie Stromanschluss benötigt.Mit freundlichen GrüßenBERNSTEIN-BADSHOP
Shower toilet BERNSTEIN Basic 1104 - toilet integrated bidet function - Glossy Black - rimless - japanese WC
Ready for shipment within 24h.
Accessories for the products