Product information "BERNSTEIN Shower Toilet PRO+1104 - special saving package 26 - and support frame G3004A with flush plate"
BERNSTEIN Shower Toilet PRO+ 1104 - white - complete set - angular design
BERNSTEIN intelligent rimless shower toilet with a range of functions and, thanks the perfect technology, offer every day fresh and clean feeling. 
The expandable shower arm made of high quality stainless steel provides a hygienic cleaning experience. The self-cleaning antibacterial nozzle has a pulsating and oscillating massaging jet for a pleasant wash. The water temperature and the jet intensity are adjustable. The shower arm is automatically cleaned with fresh water before and after each use. In order not to dirty it, the arm of the hand shower remains behind in the toilet bowl during the use of the toilet.
Optimum hygiene thanks to perfect technology
For your convenience, after the refreshing water rinsing, hot air dryer is at your disposal to eliminate unpleasant humidity. Its temperature is also adjustable. And do not worry about bad smells anymore As soon as you sit down on the toilet seat, the built-in fan automatically trips and diverts odors into the odor filter.
The 180 ° Vortex rinse system provides deep cleaning. Water for rinsing comes from both sides of the toilet bowl without flange and thus reaches all areas. Dirt and limestone are unlikely to become embedded.
The softclose toilet seat closes smoothly and quietly. For perfect hygiene, it is coated with an antimicrobial additive that leaves no chance for germs. Even after many cleaning with detergents, it does not lose its effectiveness.
To further increase the comfort of the BERNSTEIN Shower Toiltes PRO+ 1104, you have a remote control with which you can make all the settings.
Another highlight of the shower toilet is the integrated night light sensor. Soft lighting illuminates the contour of the toilet seat and guides you safely the toilet.
We recommend that you hire a professional to install your shower toilets. For further information, please refer to the assembly and operating instructions below.
As always BERNSTEIN is a guarantee of quality.
Features and specifications
Material
toilet bowl: sanitary ware
toilet seat: thermosetting plastic (Duroplast) - antimicrobial
 
Color
white
 
Dimensions
384 x 593 x 380 mm (W x D x H)
 
Weight
about 32 kg net
 
Packing dimensions    
465 x 660 x 480 mm
 
Connection
electrical connection required
 
Electric tension
240 V, 50/60 Hz
 
Illuminant
lampe LED - non interchangeable
 
Efficiency class
G
 
Protection sign
IPX4
 
 
shower toilet complete system
 
 
10-year spare parts availability guarantee (from date of purchase)
 
 
bowl with hollow bottom without flange
 
 
wall-hung toilet
 
 
antimicrobial toilet seat with soft-close function
 
 
 
seat load capacity max.150kg
 
 
180° - Vortex flushing system
 
 
shower arm made of stainless steel SUS304
 
 
self-cleaning and antibacterial shower arm
 
 
shower nozzle removable for manual cleaning
 
 
rear shower and lady shower
 
 
warm air dryer
 
 
activated carbon filter odor absorber
 
 
night light function
 
 
remote control (batteries not included);
two batteries are required (1.5 V, LR03 / AAA)
 
Technical drawings
(Click image for larger view)
Downloads

 Installation Instructions - I / 2018

 Operation Manual - I/2018
Video: Discover more features on the BERNSTEIN SHOWER TOILETS PRO+
Information according to the German Batteries Act and in regards to EU guidelines
We are obligated to inform you according to the Batteries Act (BattG) as follows:
Disposing of batteries into household garbage is not permitted; you are bound by law to return used batteries. Used batteries can contain harmful substances which can damage the environment or your health when not disposed of correctly. Batteries also contain important commodities such as iron, zinc, manganese or nickel which will be recycled. You may send the used batteries back to us, or you can return them to your local recycling center free of charge (recommended). The symbol of the crossed waste container is a warning against disposing of hazardous materials into household garbage.
at a collection point
points of sale that market batteries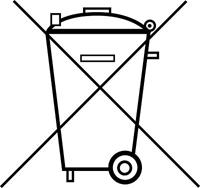 Electrical and electronic equipment
Electrical and electronic products should not be thrown away with household waste.
Consumers can return their WEEE to one of the municipal collection points free of charge.
Items included in the delivery
BERNSTEIN Shower Toilets PRO+ 1104
Support frame G3004A
Flush plate - product variations
Bernstein support frame G3004A
adjustable height
excellent corrosion-resistant with Dacromet-coating
concealed cistern with dual-flush plate
water-saving dual flush plate (small push button flush plate adjustable: 3-5 l.large push button flush plate adjustable: 4,5-7 l.)
flush volume adjustable
easy installation of the flush plate
suitable for renovations as well for new construction
Product details
| | |
| --- | --- |
| Dimensions | 506 x 1144-1344 (adjustable) x 170-200 (adjustable) mm (WxHxD) |
| Installation height   | adjustable: 1144-1344mm |
| Installation depth | adjustable: 170-200mm |
|   | self-supporting frame |
|   | feet adjustable |
|   | for drywall construction |
|   | flush tank condensation and acoustic isolation, front operation |
|   | with flush plate, model and colour selectable |
|   | dual flush water flow |
|   | small push button flush plate adjustable: 3-5 l. |
|   | large push button flush plate adjustable: 4,5-7 l. |
|   | angle valve made of brass |
|   | easy installation of the flush plate |
|   | with sound proof WC |
|   | Water behind/above the center |
|   | with wall mounting kit for steady installation of wall elements |
Technical drawing
(click the image for larger view)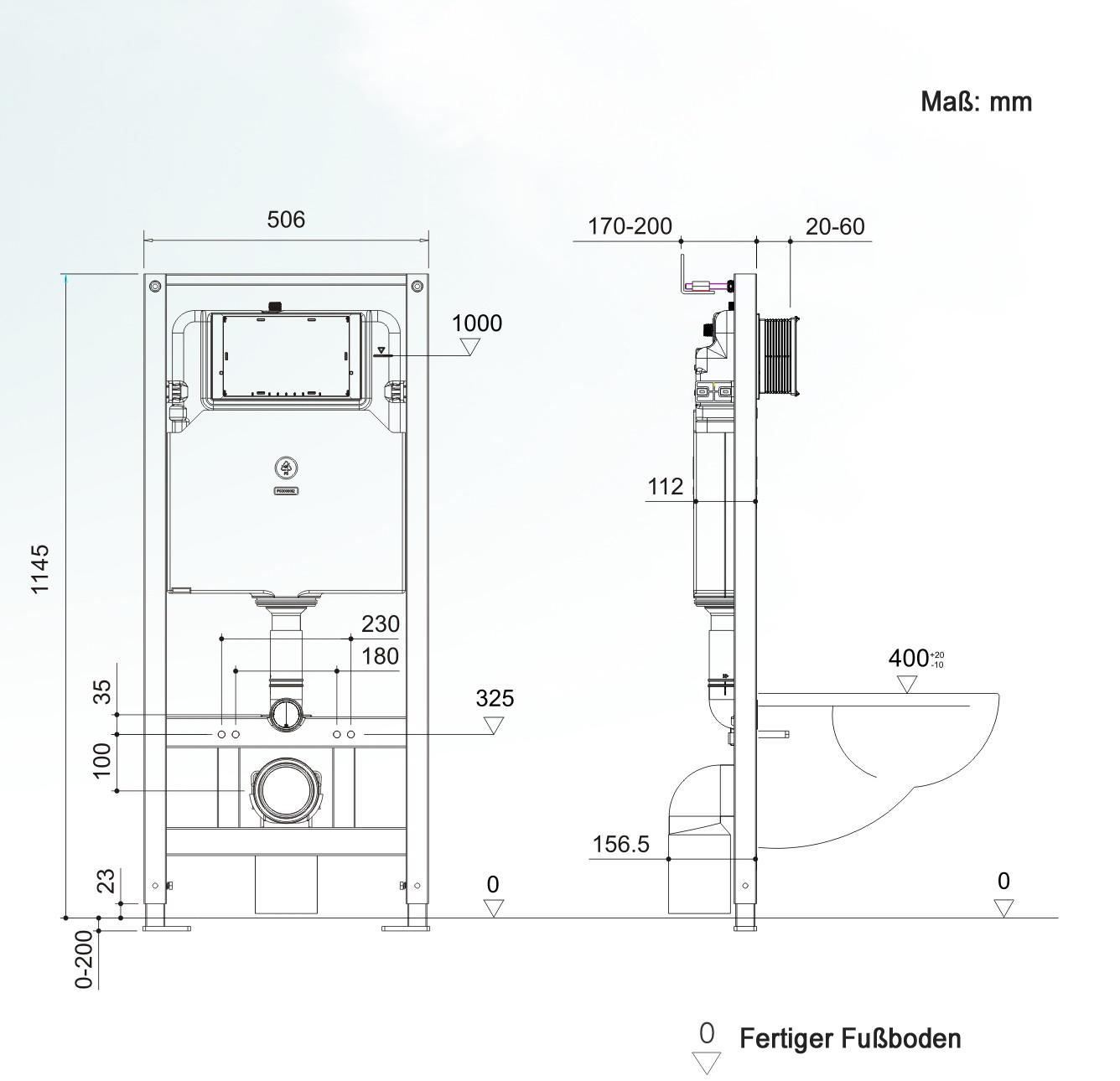 Flush plates - model selectable in variant articles
Flush plate 4111
| | |
| --- | --- |
| Colour | matt black, matt white or satin |
| Material | hight-quality ABS |
| Dimensions | 245 x 165 mm |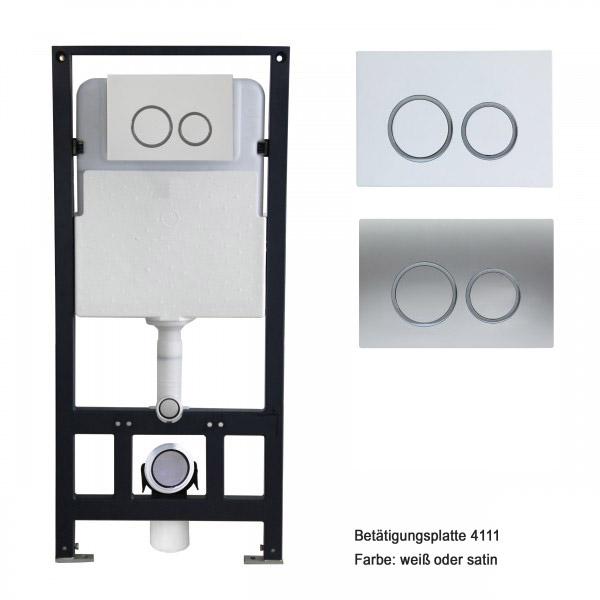 Flush plate 4112
| | |
| --- | --- |
| Colour | matte white |
| Material | hight-quality ABS |
| Dimensions | 245 x 165 mm |
Flush plate glass
| | |
| --- | --- |
| Colour | white or black |
| Material | hight-quality glass |
| Dimensions | 245 x 165 mm |
Delivery
Pallet shipments are delivered curbside. Please consider that the carrier will call you to fix delivery date/time, so kindly remember to indicate your phone number (landline or mobile phone) when placing your order.
For deliveries to islands, additional charges will apply for sea transport. In order to calculate this charge with precision,  your postal code (ZIP Code) will be required.
There aren't any asked questions yet.
BERNSTEIN Shower Toilet PRO+1104 - special saving package 26 - and support frame G3004A with flush plate
The article is soon available, pre-order now!
Accessories for the products