Product information "SMC Shower Tray - GT Serie - black - 3,2 cm high - 90cm width - available in different lengths and with optional accessories"
BERNSTEIN shower tray - GT serie - structured surface
This shower tray made of SMC (Sheet-Molding-Compound) will really win you over with its elegant and contemporary design, its incredible sturdiness and anti-scratch surface.
The tray is 3,2 cm high and can be easily installed on the floor of your bathroom.
Pick the perfect length for you, you can even select a waste system of your choice.
If necessary, this tray can be cut down to the desired size.
What does SMC stand for?
SMC stands for Sheet Moulding Compound (it consists of a ready to mould glass-fibre reinforced polyester), ideally suited for shower trays manufacturing. SMC is made of fibre-reinforced polymers compacted through heat and pressure. SMC is a top-quality material thanks to the use of impregnated fibres that ensure the shower trays are both light and incredibly robust.
As always, BERNSTEIN is a guarantee of quality.
Features and details
Dimensions
Available dimensions:
90 x 90 x 3,2 cm (net weight approx. 11 kg)
90 x 120 x 3,2 cm (net weight approx. 15,4 kg)
90 x 140 x 3,2 cm (net weight approx.17 kg)
90 x 160 x 3,2 cm (net weight approx.19,4 kg)
90 x 180 x 3,2 cm (net weight approx. 21 kg)
Material
SMC (Sheet-Molding-Compound)
Colour
Anthracite
Surface
structured
 
can be cut down to the required size
 
non-slip and anti-scratch surface
 
Extremely robust thanks to the special structure of its lower side
 
Long-lasting
 
Integrated waste inclination
 
Waste diameter Ø 90mm
 
Removable safety cover
 
DIN standard
 
DIN 51097, EN 274-1/-2  and EN 14527 certified
 
easy to clean
 
easy to install
Technical drawings
(click on the image for larger view)
Included in the delivery  
Shower tray in the required dimension
Optional:
Important:
The lower surface of this product doesn´t allow it to be installed on MEPA mounting feet or on a support frame.
Available options:
Type B plug and waste system
| | |
| --- | --- |
| Material | plastic, chrome-plated cover |
| Height | 80 mm |
| Waste hole | 90 mm |
| Outlet | Horizontal DN 40/50 mm |
|   | Suitable for shower trays with a 90cm Ø waste |
|   | removable insert for an easy cleaning |
|   | 45° elbow pipe |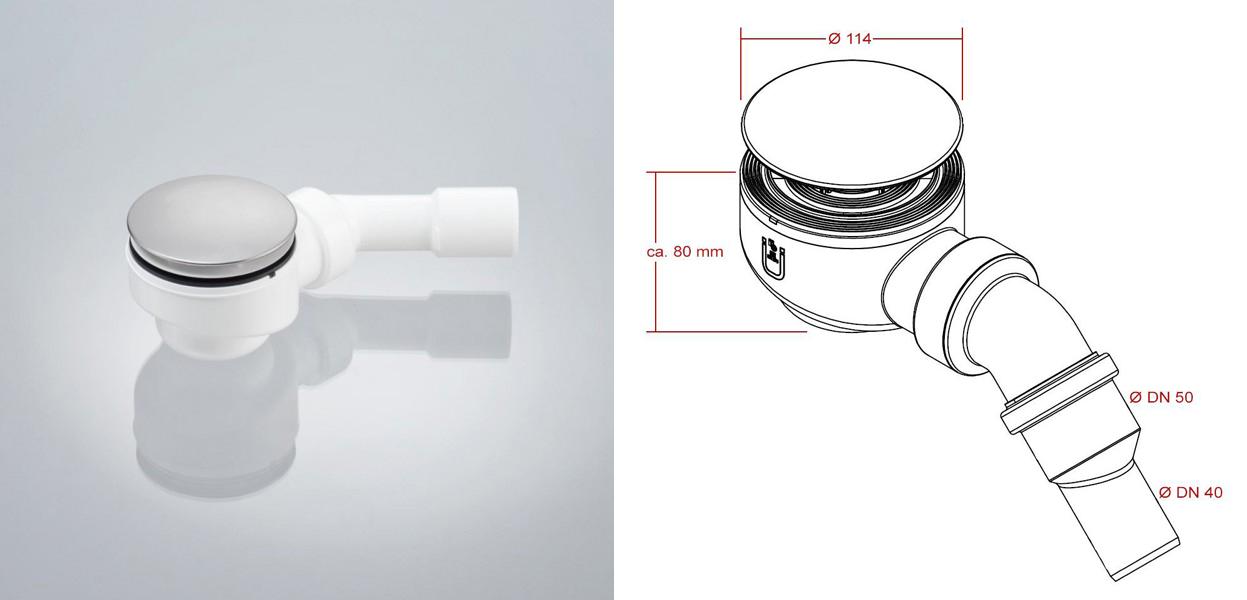 Dallmer Orio flat syphon
| | |
| --- | --- |
| Material | highly resistant polypropylene, chrome-plated cover |
| Waste | approx 85 mm high |
| Version | DN 50 floor drain |
|   | Spherical joint, can be adjusted from 0  to 15 degrees |
|   | removable syphon |
|   | safety cover/assembly tool |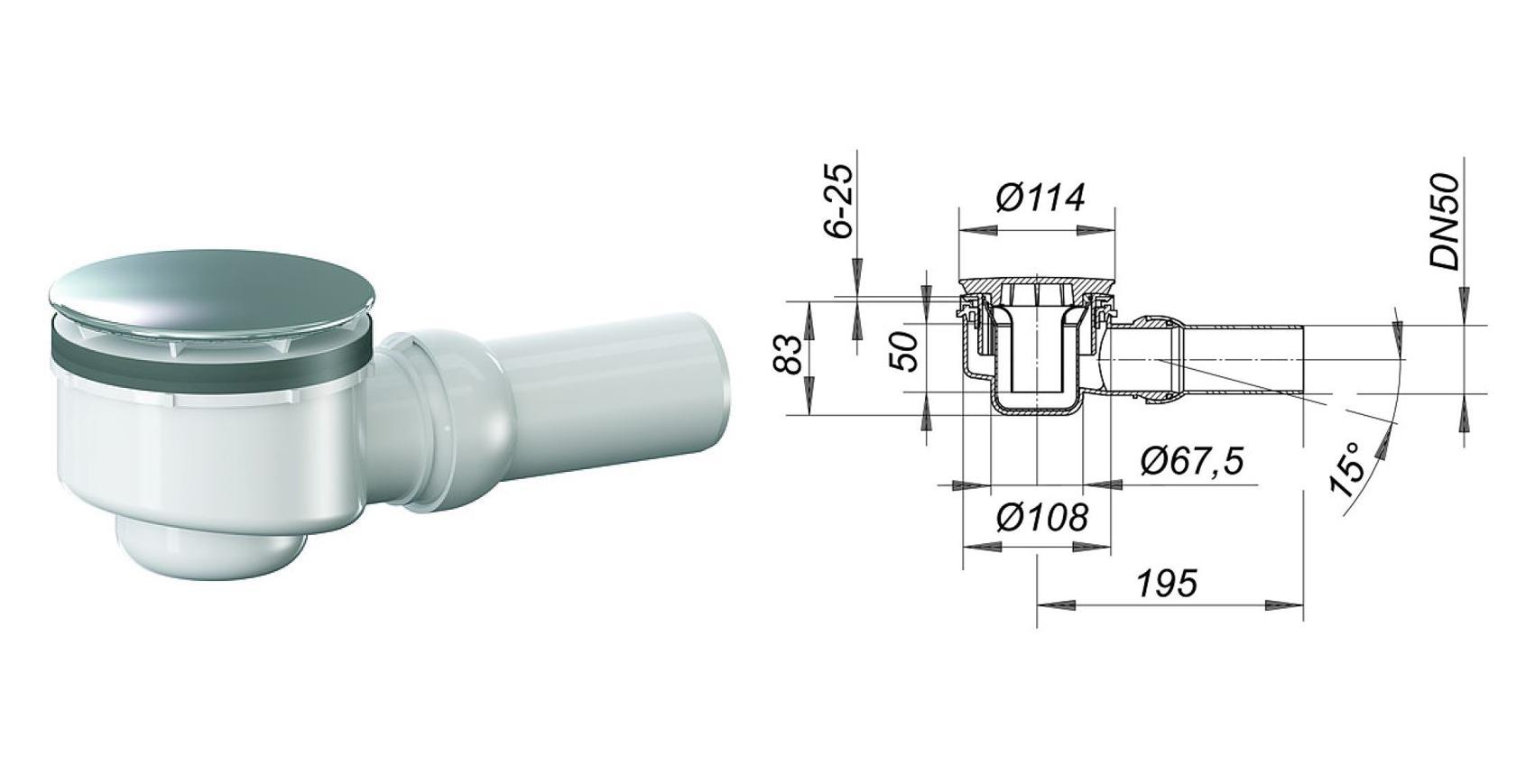 Flow rate according to DIN EN 274
(accumulation height 15mm)
|   |   | Standard |   | Flow rate |
| --- | --- | --- | --- | --- |
| DN 50 |   | 0,4 l/s. |   | 0,59 l/s. |
Delivery
Pallet shipments are delivered curbside. Please consider that the carrier will call you to fix delivery date/time, so kindly remember to indicate your phone number (landline or mobile phone) when placing your order.

For deliveries to islands, additional charges will apply for sea transport. In order to calculate this charge with precision, your postal code (ZIP Code) will be required.
Colour:

Black

Dimensions shower tray:

90x90cm

, 120x90cm

, 140x90cm

, 160x90cm

, 180x90cm

Material:

SMC

Pop-up waste:

without pop-up waste

Shape shower tray:

Quarter circle

, Rectangular

Surface shower tray:

Structure

, anti-slip

outlet cover:

with outlet cover
Question : Mit welchem Werkzeug kann die Duschwanne geschnitten werden? was wird dazu empfohlen? ist es möglich die Duschwanne auf der ganzen Länge oder Breite zu kürzen? zum Beispiel von 100 cm auf 97,5 cm? danke
From : customer
Answer:
Guten Tag, vielen Dank für Ihre Anfrage. Die Duschtasse kann auf jeder Seite mit Hilfe einer Stichsäge oder einer Kreissäge mit feinem Sägeblatt gekürzt werden.Mit freundlichen GrüßenBERNSTEIN-BADSHOP
Question : Wie wird diese Duschwanne eingebaut? Auf dem Estrich oder auf Isolierung? Wie und womit verklebt?
From : customer
Answer:
Guten Tag, vielen Dank für Ihre Anfrage. Unsere SMC Duschtassen kann nicht mit einem herkömmlichen Untergestell unterbaut werden und wird direkt auf den Estrich oder den Fliesen mithilfe von Montage- oder Fliesenkleber montiert. Sofern die Duschtasse unterbaut, werden muss, können Sie dies mit Styrodur oder Ytongsteinen kombinieren.Mit freundlichen GrüßenBERNSTEIN-BADSHOP
SMC Shower Tray - GT Serie - black - 3,2 cm high - 90cm width - available in different lengths and with optional accessories