Product information "Stainless steel shower channel S01 - for shower cabins - selectable sizes - shower drain included"
Shower channel S01 made of stainless steel
The shower channel BERNSTEIN S01 is made of high-quality stainless steel. The evacuation channel is adapted for all the walk-in showers also called italian showers.
The removable grid cover makes it easy to clean the siphon and the floor drain.
The shower drain for the floor level shower has a drain diameter of 40 mm. The drain is delivered with a 50 mm adapter. A secure water collection offers a discharge rate of  approx.30 liters per minute .
Thanks to the adjustable anchor foot, the installation height can easily adjusted to your requirements.
Select your desired drain size: 13,5 x 13,5 cm, 15 x 15 cm or 20 x 20 cm.
Features and specifications
Material
stainless steel SUS304
Width
selectable:
13,5 x 13.5 cm, 15 x 15 cm or 20 x 20 cm
Output
approx. 30 liters/min.
Necessary installation height
67 mm
Border
approx. 20 mm
 
integrated siphon of stainless steel with opening Ø 40 mm
 
adjustable anchor feet
 
adapter with 50 mm
Technical drawing
(click on the image for larger view)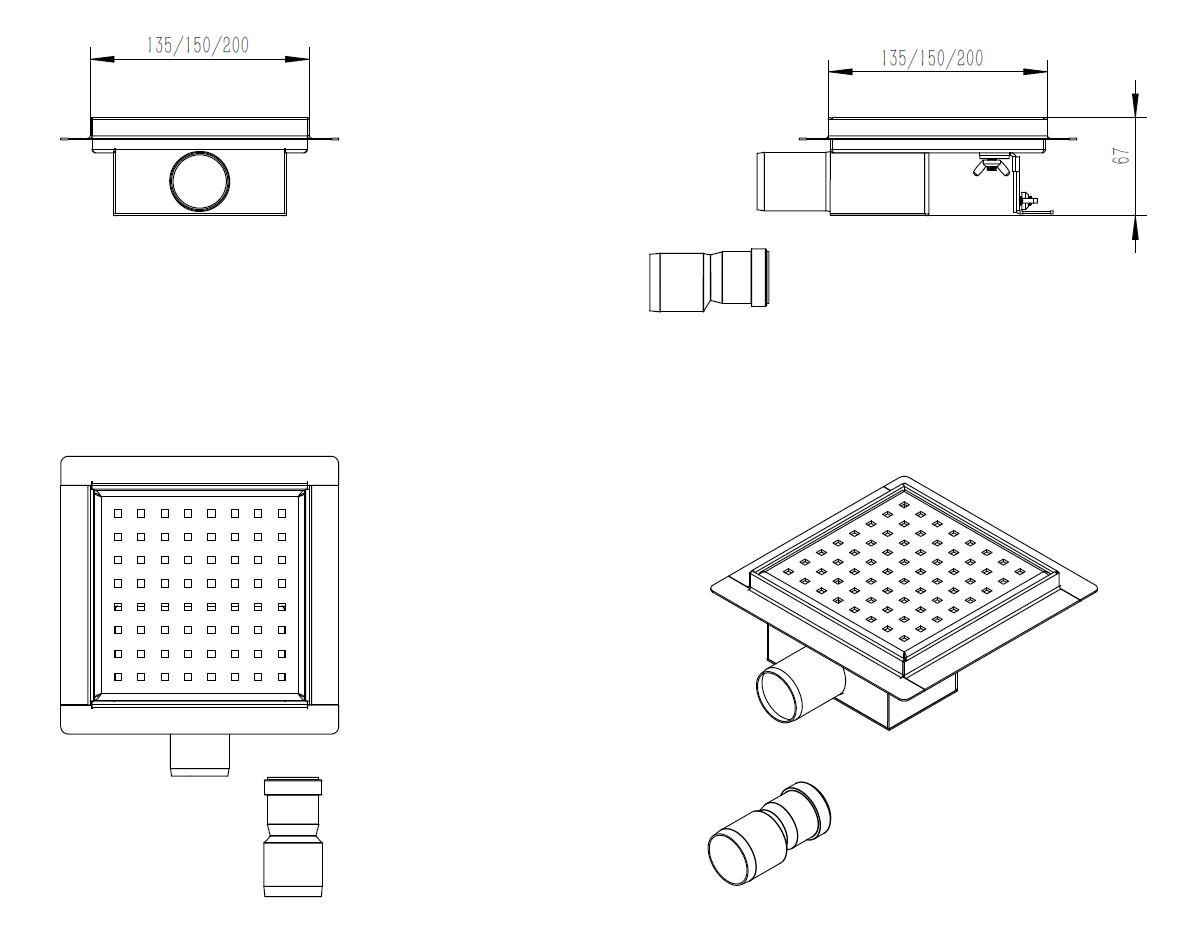 Included in the delivery
1x stainless steel shower channel in your selected size
1x removable design grid
1x siphon
1x adjustable anchor foot
1x adapter from 40 to 50 mm
Assembly instructions
Delivery
This product is dispatched by DHL package and takes up to 3-4 working days to reach you. The carrier will try to deliver your package at home. In case you were not in when this happens, a delivery note will be left in your mail box, you can then collect the item at your local post office.
For deliveries to islands, additional charges will apply for sea transport . In order to calculate this charge with precision, your postal code (ZIP Code) will be required.
Dimensions:

13.5 x 13.5 cm

, 15 x 15 cm

, 20 x 20 cm
There aren't any asked questions yet.
Stainless steel shower channel S01 - for shower cabins - selectable sizes - shower drain included