Product information "FlexGL01 shower drain - black glass - available in different lengths "
Shower drain FlexGL01 - with integrated hair catcher - black glass
This shower drain is the perfect match for any of our walk-in shower enclosures: it will bring a sleek and essential, contemporary look to your bathroom while enabling a quicker and smoother access to your shower. This feature can be very important especially in case of people with special needs or specific individual requirements (eg.disabilities).
Smoothly and quickly mounted? A 360° adjustable syphon and the adaptable mounting feet of the drain ensure an easy and customised installation. The shower drain also features an anti-odor system and an easy-to-clean, removable grid made of stunning black tempered glass (ESG).
Enjoy a clog-free shower every time you want! Our product is also provided with a top-quality drainage system and an integrated hair catcher that will avoid any kind of clogging of the filter. The flow capacity of this item is 34 litres/min, reaching up to 42 litres/min without filter.
La canalina di scarico per doccia a filo pavimento ha un sistema di scarico di 40mm di diametro ed é consegnata con un adattatore di 50mm. Nella nostra Boutique Bagno, sotto Box doccia, troverete una vasta gamma di docce per ogni esigenza.
Selezionate la lunghezza che preferite : 60cm, 70cm, 80cm, 90cm ou 100cm.
Come sempre, il marchio BERNSTEIN é garanzia di qualitá.
Caratteristiche e dettagli
Materiale
acciaio inossidabile SUS304
griglia in vetro di sicurezza trempato ESG, nero
sifone in plastica dura
Larghezza
70 mm, più 40mm per il bordo di montaggio
Lunghezze disponibili
60 cm, 70 cm, 80 cm, 90 cm o 100 cm
Porta di scarico
34 l/min con filto raccogli-capelli
42 l/min senza filtro raccogli-capelli
Larghezza del bordo
20 mm
Altezza d'installazine richiesta
102 mm
Acqua di tenuta
ca. 20 mm
 
sifone integrato con uscita di 40 mm
 
adattatore 50 mm
 
sifone orientabile a 360°
 
filtro trattieni-capelli rimovibile
 
flusso di acqua con pendenza laterale integrata
 
piedini regolabili in altezza
 
vetro rimovibile per la pulizia
 
piastrelle di spessore fino a 12 mm di altezza
 
 
Dettagli tecnici
(cliccare sull´immagine per ingrandire)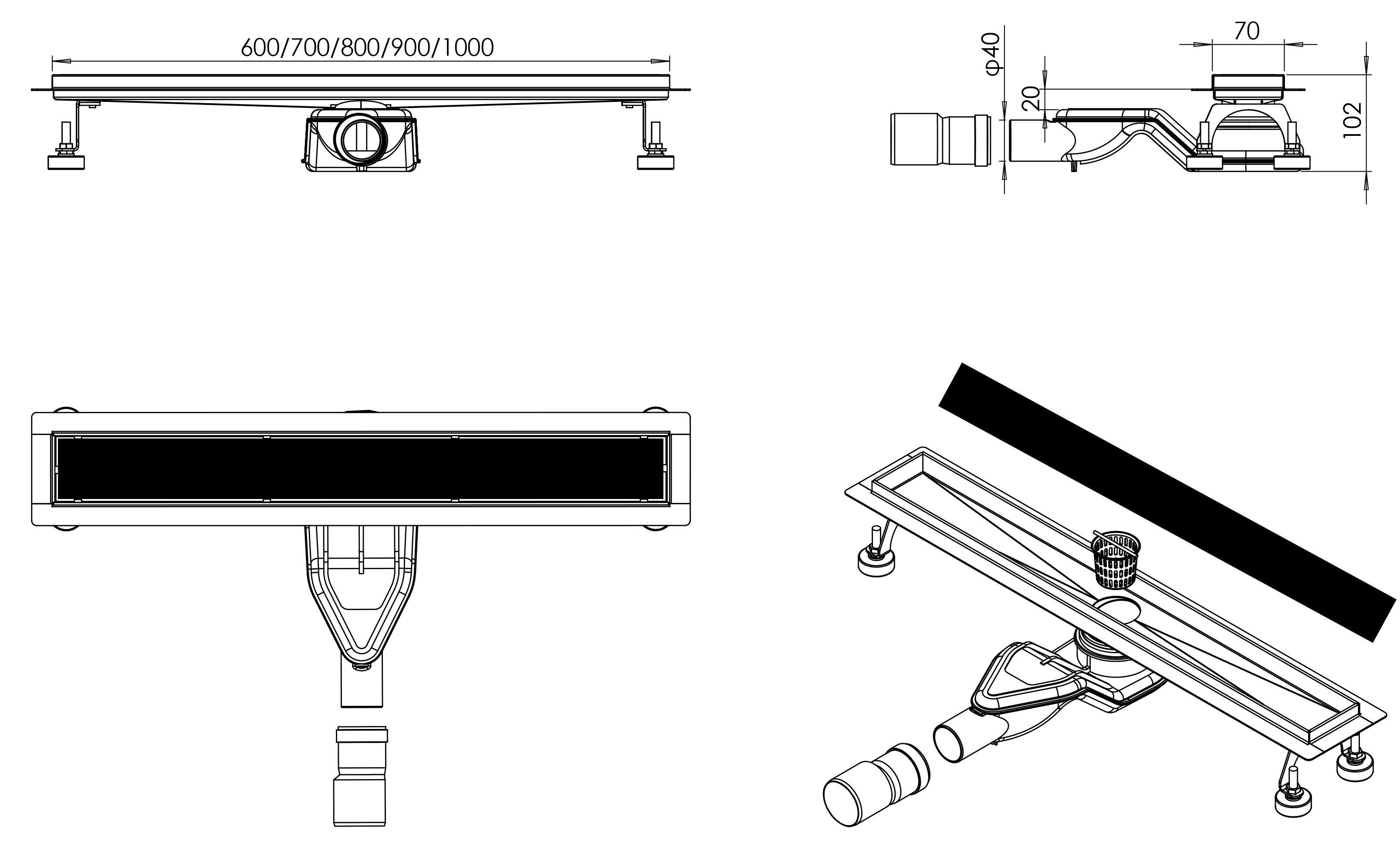 Download

Istruzioni di montaggio
Incluso nella consegna
1x canalina di scarico in acciaio inossidabile
1x griglia in vetro nero removibile
1x sifone con sistema anti-odore
1x filtro trattieni capelli removibile
1x adattatore da 40 mm a 50 mm
Istruzioni di montaggio
Consegna
Questo prodotto é spedito con pacchetto . La consegna richiede circa 4-5 giorni lavorativi. Il corriere consegnerá il pacchetto al vostro domicilio. In caso non fosse in caso voi foste fuori al momento della consegna, il corriere lascerá una nota di passaggio con cui potrete ritirare il vostro prodotto in posta. Si prega di fornire il proprio numero di telefono fisso, meglio cellulare, al momento dell'ordine affinché il corriere possa contattarvi
ATTENZIONE: IL COSTO DI QUESTO ARTICOLO É CALCOLATO PER CONSEGNE SU TERRAFERMA
Length:

600mm

, 700mm

, 800mm

, 900mm

, 1000mm
There aren't any asked questions yet.
FlexGL01 shower drain - black glass - available in different lengths