Product information "Stainless Steel Linear Shower Drain FlexGT02 with stainless steel cover - selectable width"
Shower Drain FlexGT02 with stainless steel grate - incl. siphon and removable hair catcher
Give your bathroom an elegant and modern look with the shower drain FlexGT02. The linear shower drain are adaptable for all walk-in showers and offer easy access for people with reduced mobility.
The shower drain has fast and an excellent flow rate of 42l/min. The pratical hair catcher is easy to remove and clean. FlexGT02 includes a 360° rotatable siphon and adjustables legs for easier installation. The shower channel has a drain with 40mm outlet and is delivered with a 50 mm adapter.
Select the required lenght 60 cm, 70 cm, 80 cm, 90 cm or 100 cm at the top of the page.
As always, BERNSTEIN is a guarantee of quality.
Product details
Material
Stainless steel SUS304
Siphon made of solid hard plastic
Width
70 mm + 40mm mounting frame
Selectable length
60 cm, 70 cm, 80 cm, 90 cm or 100 cm
Flow rate
34 l/min with hair catcher
42 l/min without hair catcher
Water trap height
20 mm
Installation height   
102 mm
Width of the edge
approx. 20 mm
 
Integrated siphon with 40 mm outlet
 
Incl. adapter to 50mm
 
360° rotatable siphon
 
Removable hair catcher
 
Drain with integrated incline
 
4 adjustable feets
 
Removable drain cover
 
Tileable for bathroom tiles up to 12 mm high
Technical drawing
(Click image for larger view)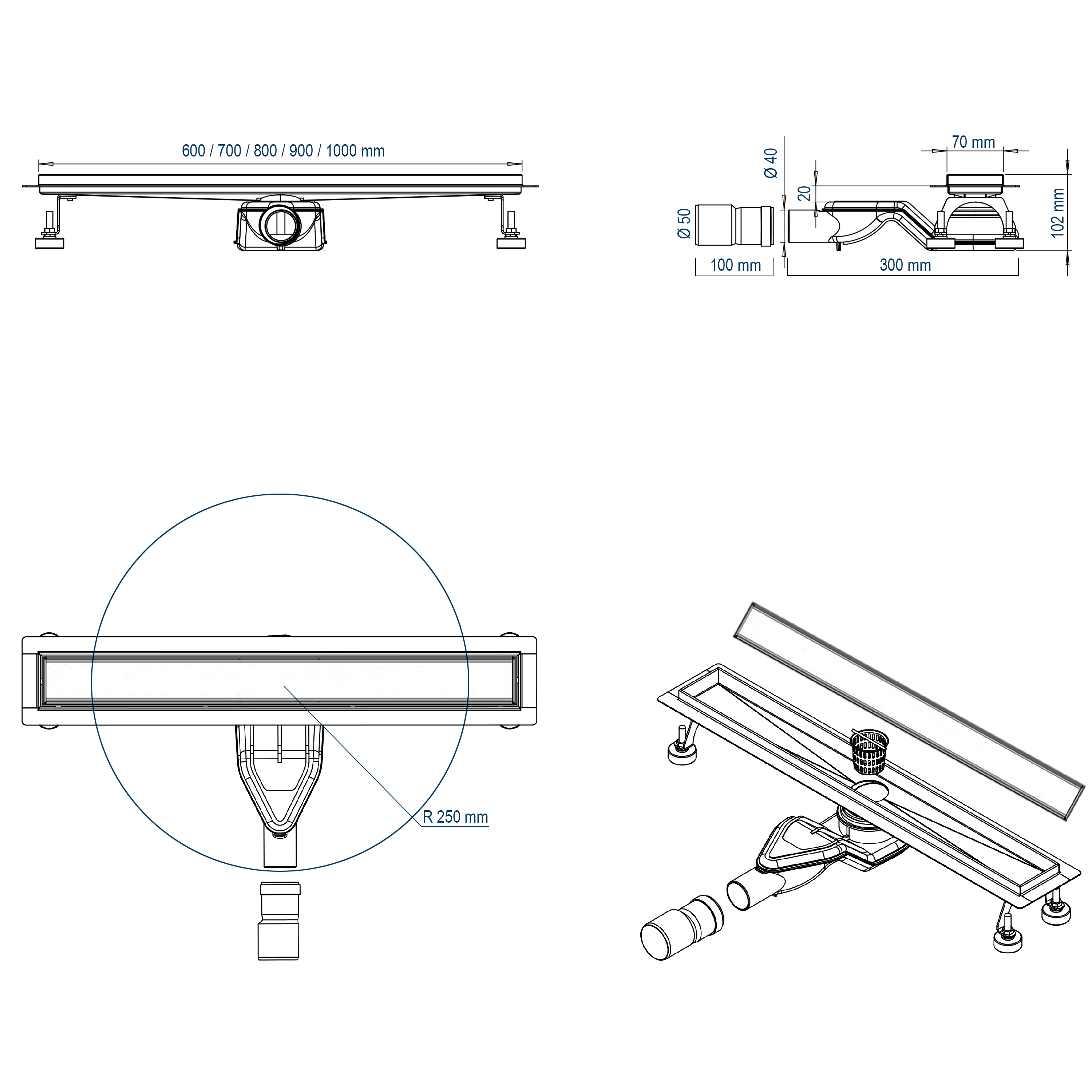 Download

Installation instructions
Items included in the delivery
1x Stainless steel linear shower drain
1x Removable drain cover Flex GT02
1x Anti odors-system
1x Removable hair catcher
1x Adapter 40mm to 50mm
Sealing membrane
Installation instructions
Delivery
This product is dispatched by package and takes up to 3-4 working days to reach you. The carrier will try to deliver your package at home. In case you were not in when this happens, a delivery note will be left in your mail box, you can then collect the item at your local post office.
For deliveries to islands, additional charges will apply for sea transport . In order to calculate this charge with precision, your postal code (ZIP Code) will be required.
Length:

600mm

, 700mm

, 800mm

, 900mm

, 1000mm
There aren't any asked questions yet.
Stainless Steel Linear Shower Drain FlexGT02 with stainless steel cover - selectable width